INSTRUCTIONS TO SEND US YOUR VIDEO:
Step 1:
After you are done filming, photographing, or recording audio onto your SD Card take the SD Card out of your camera or recording device and get your SD card(s) ready for shipment by locking them.
To do this, look on the upper left corner of the SD card. There should be a switch which you can push using your fingernail or a coin to the "Lock" position. If you do not Lock the SD Card, files can be lost before we receive the card for processing. Even for future purposes, locking your SD cards after you are finished filming is a great way to ensure the video files are not lost or damaged.
​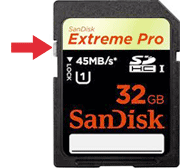 Step 2:
Next, there are a couple different ways you can send us the SD card(s). Your first option is to place each SD Card in a plastic case (if you have one - as shown to the right).
If you have more than one SD card which you need to send us, please make sure each of the cards are protected. Usually SD cards come in these individual plastic cases but if you have more than one usually (and for future purposes) having a plastic case for all your SD cards (as shown to the right) is highly suggested to protect your cards from being damaged. Your local Wal-Mart or CVS Photo Center has them for less than $3 or $4 so I highly encourage using them even after this process.
​
The other way you could send us the SD cards is by taking all your SD cards and taping them using Scotch tape to a sheet of paper. Please make sure to write on the paper above the SD card which SD card or camera that card is from (especially from multi-camera productions) (as shown).
​
Step 3:
Insert your SD-Card into an envelope. Using envelopes with bubble wrap already inside them is recommended but if you only have regular envelopes that should work fine for small projects.
​
Please note: The packaging you send us your SD Card(s) in is the same packaging we will use to return your card(s) when we are finished processing them so please make sure to take extra time to find a quality box or envelope that can protect your media on their way to and from the trip.
Step 4:
Make sure to clearly write or label the envelope with a return address. PLEASE NOTE: If you do not include a return address on the envelope, your media will NOT be returned to you AND you will not be eligible for a refund.
Example:
John Smith
123 Second Street,
New York, NY 12345
Step 5:
You can either ship your envelope to our offices with the following address using United States Postal Service (USPS) or drop them off at your convenience.
Matt Haslam Productions
ATTN: Media Importing Dept.
537 Pine Hill Street,
Minersville, PA 17954
​
That's it ... it's really THAT easy!
Learn how to get Refunded for your Shipping Costs:
Here's how the refund process works.
In order to be eligible:
1. You must be sending us media for a project you are not producing. If you are the customer for the project which you are sending us media for, you will not be refunded the shipping price.
2. You must use United States Postal Service (USPS).
3. You must provide us with a return shipping address on the envelope / package including your name.

When we return your media to you, we will also include a check inside the package / envelope made payable to the name on the return address portion of the package. For instance, if you only write your address, we will not have a name to write the refund out to so if you want a refund, please write your full address including your name on the return shipping on the envelope. This shipping refund amount will be forwarded to the customer on the project and thus, we will only refund the minimum amount according to USPS so if you choose extra options such as additional insurance on your package or anything above First Class mail, we will only refund the amount as if the package was sent using First Class mail.
​